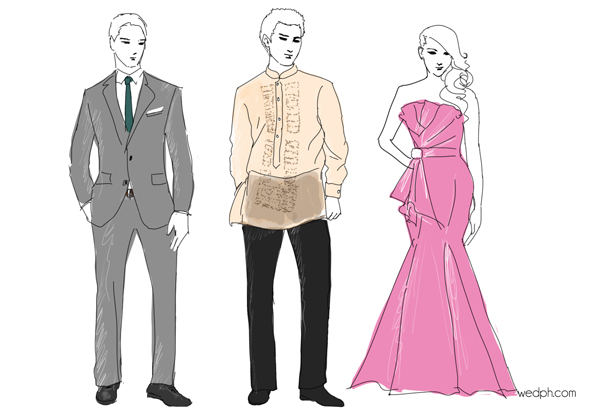 Different events call for different dress codes. In the Philippines, what conventions do these dress codes call for?
An occasion that calls for "formal attire" (or black- or white-tie) means a conservative three-piece suit for men (think coat-and-tie or tuxedo) in subdued colors, or a barong Tagalog made of jusi or pinya worn over an undershirt (camisa de chino), matched with dark-colored slacks. Women wear ball gowns, usually floor-length, matched with accessories such as elbow-length gloves and/or jewelry. Men should wear dark leather shoes with matching socks; women should wear dress shoes with heels.
"Semi-formal" is a step down from "formal" yet much dressier than "smart casual". This means a dress shirt for men, with or without a tie, underneath a dark suit. The versatile barong Tagalog or an embellished Chinese-style shirt is also allowed. Jeans or khakis are definite no-nos; slacks must be of dark material and tailored. Shoes must be dark-colored leather, and worn always with matching socks.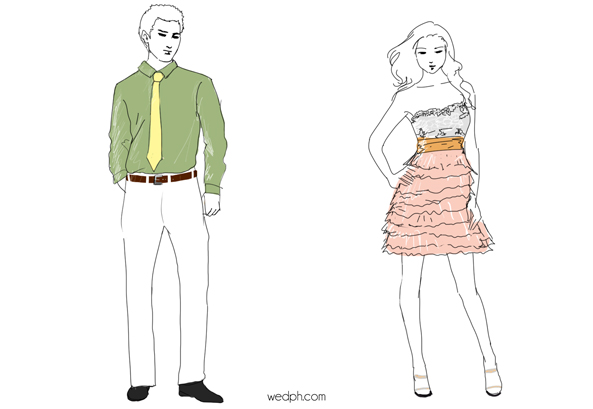 Women have more leeway with "semi-formal." The "little black dress" is perfect, with the right length, cut and material. Dresses may fall slightly above the knee, or can reach the ankle, but should be of more formal fabric such as satin and taffeta. Stylish pantsuits, usually as matching tailored top and bottom, are allowed. No tight, jeans, khakis, or skinny pants, however. Shoes may be closed- or open-toed, with the dressy heel-height (no flats), color coordinated. Jewelry is conservative, not too overpowering nor ostentatious. Other possible accessories are purse, scarves or shawls.
Another dress code is known as "smart casual." This is a bit dressier than "business casual," or what people wear to the office or to business meetings. The light jacket, cardigan or blazer is usually a staple. "Smart casual" for men means button-down, long-sleeved, collared shirts, worn tucked into slacks such as khakis. Although plain color is the norm for shirts, pin stripes or plaid are safe patterns. Slim-fit, dark-colored jeans – not skinny- are allowed, but not with multi-pockets or cut-outs, and should be worn with a leather belt. Shoes should be leather or lace-up loafers, and worn with socks. Neckties are optional, while other accessories such as watches and bracelets should be at a minimum.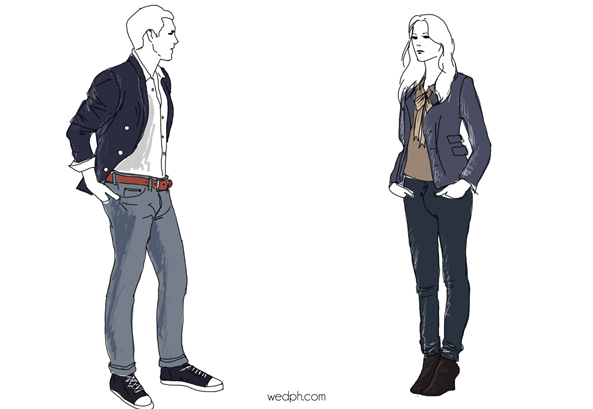 Women wearing "smart casual" clothes should make sure their skirts or slacks are of conservative length and cut – no skinny pants or micro-minis. Jeans should also be dark-colored and sharp-looking. Tank or tube tops should not expose the belly-button, and should be worn under buttoned jackets. Practically any color of top will do, as long as either the jacket or the bottoms is of neutral color. Footwear should be comfortable – but not to the extent of wearing slippers, beach sandals, or sneakers. Matching accessories should be at a minimum and not too flashy.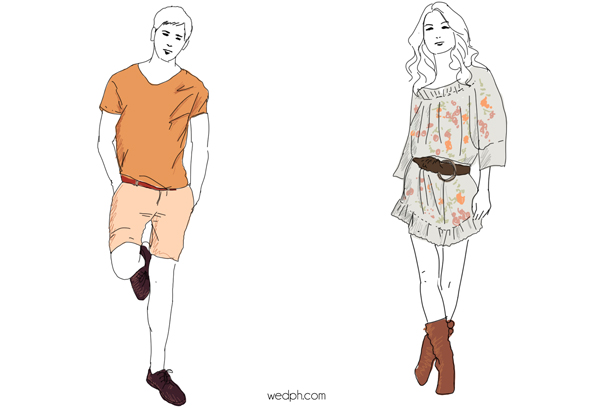 The "casual" look, meanwhile, means informal, comfortable attire that falls short of "rugged" or "sporty." No undershirt, short shorts or slippers, unless the occasion calls for "beach casual." Casual attire allows clothes of lighter material, in any color or print (even floral). Men can wear sport shirts or short-sleeved button-down shirts in more festive colors, either tucked-in or hanging loose. Plain t-shirts are allowed, if dressed up with the right accessories such as a light jacket (or a choker necklace for women). Bottoms can call for jeans or slacks. Women can also wear a "sundress" of decent length, trousers, or knee-length shorts. Men can wear any footwear, even rubber-soled ones such as light sneakers. Women can wear flats or sling-back sandals.
Whatever kind of attire is called for, one must always consider the appropriateness of the event or occasion, venue, and accessories. Catholic churches often frown on skin-baring attire. Evening events are, generally, often dressier than daytime ones. Women should also always regard decency in clothes – nothing too revealing or too eye-catching, or something that would upstage an event's VIPs, especially the bride. Finally, always strive for a harmonious look with the right fabric texture, color and cut, as well as accessories or embellishments.