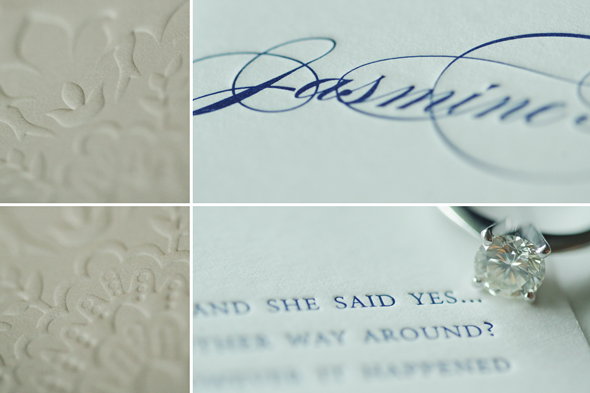 Since a wedding supposedly comes only once in a lifetime for most folks, planning for the big day means paying attention to so many details that would make it memorable not only for the couple, but also for their guests with whom they want to share the occasion. The wardrobe of the entire entourage, the venues for the wedding ceremony and the reception, the honeymoon… and of course, that one item that sets everything off and gives the guests something to look forward to weeks, sometimes months, in advance: the wedding invitation.
The wedding invitation sets off the first impression of the wedding. It gives anyone who has one on-hand an idea on how the wedding will be like, from the color theme to the information contained in it. Most importantly, it provides an insight into the taste of the couple, their preferences, and most often, their personalities. Wedding invitations are therefore as unique as they come.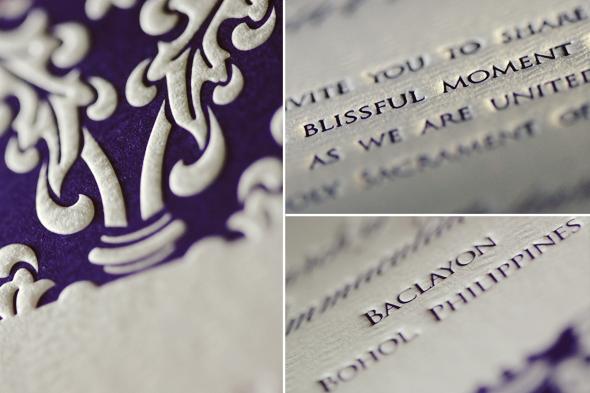 Wedding invitations can be done various ways, either by professionals or by do-it-yourselfers. Professional printing methods include engraving, offset printing, thermography, lithography, and letterpress.
Letterpress printing is interesting. It is an old printing method invented by Johannes Gutenberg and used predominantly throughout the mid-15th to 19th centuries. The output looks like the words are finely indented into paper. With the improvement of technology, today's letterpress makes the character more visually defined, and various fonts, colors and art designs can be used.
The printing process is exacting, especially when using multiple colors, and requires a high degree of craftsmanship. It is thus best to allot ample lead time, preferably no less than three weeks, for the entire process of style selection, proof printing, revisions and final printing. Suppliers abound on-line, while other couples can give referrals. Some couples go as far as hire design consultants for the wedding invitations!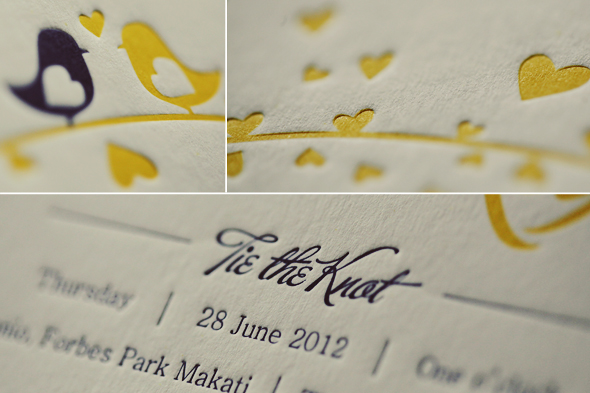 As with other types of wedding invitations, prices vary on several factors. These include number of colors used; use of pre-designed template or couple's own; overall design complexity; type and size of stationery paper used; type and number of envelopes used (some are lined or gummed, and some prefer separate inner and outer envelopes); and the number of copies to be printed, with less than the standard minimum of 100 understandably costing more.
Another price factor is the number of cards included in the invitation set. The most inexpensive type uses a single color and panel where all the information is printed on one card. Such type can be available for as little as P100 per piece. A "basic set", which usually includes the main invitation card, entourage card, RSVP and envelope, can cost around P200 per piece. Other suppliers offer additional cards such as  "save the date" card, a map for the ceremony and reception venues, RSVP card, program card, menu card, place card (used for the seating arrangement of VIPs during the reception), thank you card, and even coasters – all with the prevailing theme or motif. These can cost around P500 per piece, or even more.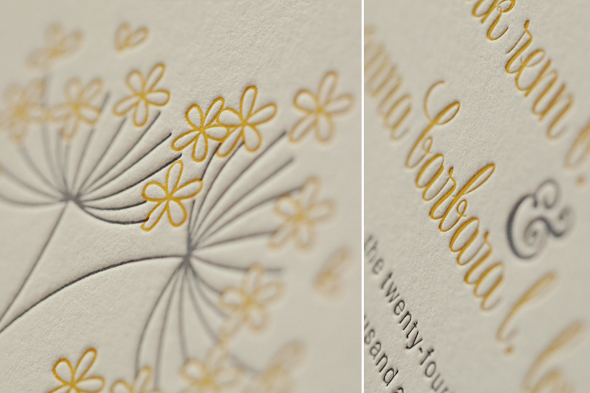 Needless to say, letterpress wedding invitations are not for cheapskates. Some are said to cost more than the wedding itself! But the end product is worth it. Letterpress wedding invitations come out elegant, looking like special artwork, and guaranteed to elicit ooh's and ahh's from the recipients, with some even treated as keepsakes.