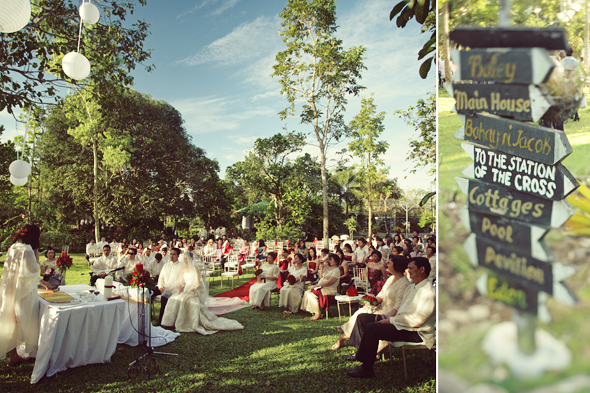 Who would have guessed that so many options for wedding receptions exist in the nearby province of Cavite (which is adjacent to bustling Metro Manila), apart from the famed and oft-visited Tagaytay City? Yet somewhere in Mahabang Kahoy in the town of Indang, is a relaxing haven known as the Red Ginger Farm and Garden, or more popularly, Balay Indang, that is fast becoming a preferred venue for garden weddings and/or wedding receptions.
To get to the resort, one need only follow Mendez road coming from Tagaytay City. The entrance could be considered inconspicuous, save for the hanging wooden sign that indicates "88 Balay Indang". Just past it is a large wooden gate between two "88" signs painted on the walls flanking it. And with the general cool breeze nipping at the skin, one could easily be fooled that the resort is still in Tagaytay City.
Balay Indang, for Visayans, is literally translated as "House of Indang". True to its name, this bed and breakfast resort mainly features a house that has traditional Filipino characteristics, including the colored windows, yet features Chinese or Balinese-inspired accents, including a collection of furniture and trinkets from different Asian countries.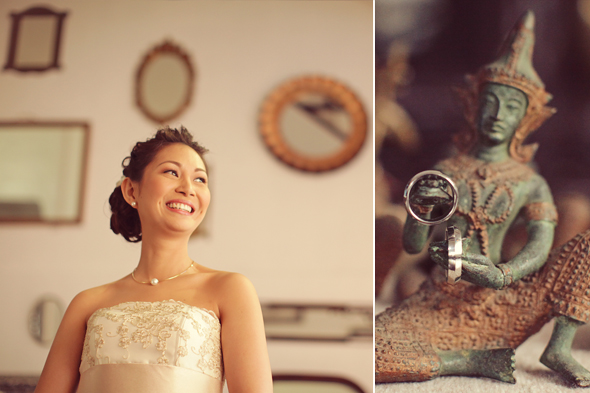 Balay Indang is a charming reception venue. Its grounds have several points of interest – cobblestoned walkways, zen gardens with fountains, play area for kids, gazebo, large swimming pool that is obviously well maintained, pavilion, and fishing pond – all surrounded with foliage that provide a stress-relieving and tranquil atmosphere. Yet since the greenery also provides a natural home to creatures, visitors can expect to be serenaded at night with the sound of different insects – from the hum of cicadas to the buzzing of mosquitoes.
For indoor dining, there is mainly the main house with its tiled floors and eclectic furniture, plus a wall from which hangs mirrors in different shapes and sizes. The resort offers local and international cuisine that, although not too extraordinary, evidently contains fresh ingredients.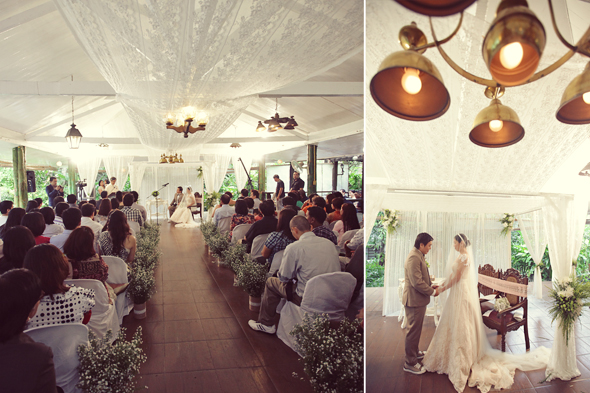 The main house can accommodate from 100 to 150 guests. As long as the weather permits, the outdoor pavilion beside the pool is an alternative venue, and for a larger number of guests, Balay Indang can set up the surrounding outdoor areas for the party.  Since Balay Indang allows only one affair to be held at a time, the wedding party can expect to have the place practically all to themselves.
The rental rate for the venue is at P50,000, while buffet catering can cost as little P750 per head for a minimum of 100 pax.  The wedding reception package includes an overnight stay in a suite of two rooms. There is ample parking space, and valet parking service is available. A real steal, indeed!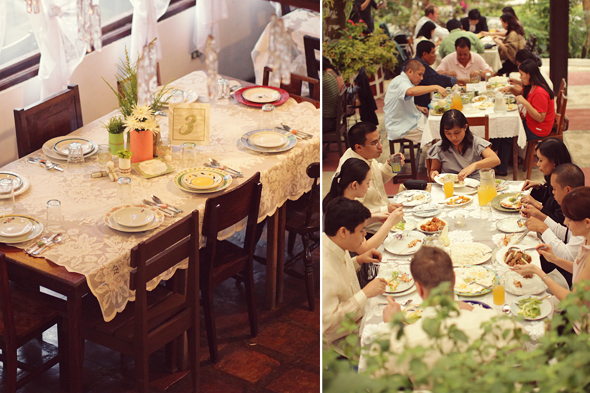 Wedding receptions at Balay Indang is usually a great way to introduce the place to the guests. The resort is also available as a getaway area for couples or families, as it has six houses featuring a total of 17 rooms. Packages are affordable for an overnight stay (reservation needed) that includes buffet breakfast, and food is served in the restaurant throughout the day – from meals to snacks. Balay Indang also accepts day trippers. With the efficient and friendly staff attending to visitors' needs in a cozy and homey atmosphere, Balay Indang can provide a truly wonderful escape from the hustle and bustle of the city.