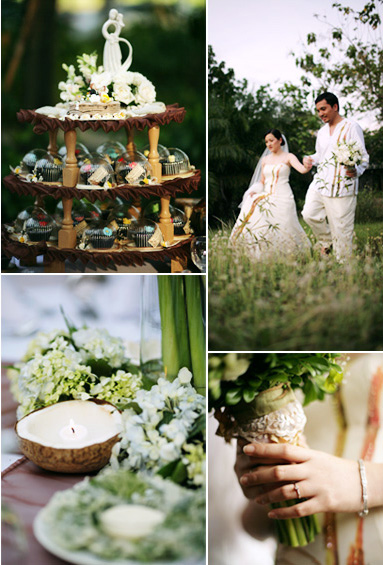 It's a Pinoy-style wedding with a twist: for their Filipiniana wedding, Alex and Donna opted out of the traditional barong and baro't saya. They instead donned on matching outfits screen-printed with bamboos, the wedding's essential theme.
The Filipiniana theme is often associated with the barong tagalog and the baro't saya of old – but there's an inherent glamour and charm in its simplicity that gives one enough room to improvise. Alex and Donna took the basic concept of the Filipiniana and added some modern flourishes and made their wedding a truly contemporary yet definitely Pinoy one.
Instead of opting for the usual, elaborately designed, Spanish-tinged, butterfly-sleeved gown and barong, the couple chose the more relaxed and laid-back feel of the Filipino countryside. And that feeling spills over the rest of their motif.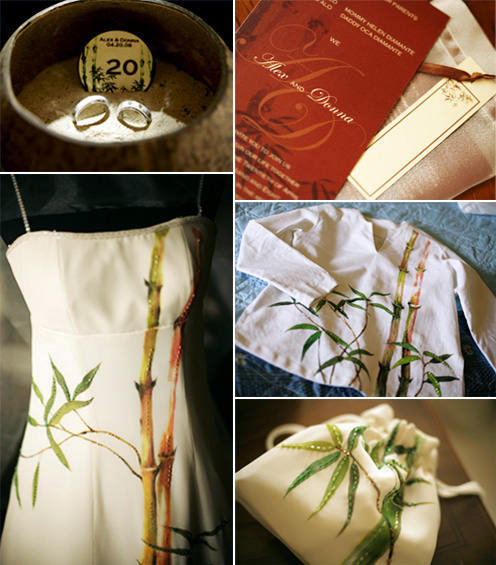 The clever use of materials like the sinamay on the bouquets and bao candle holders on the reception tables help create a very traditional Filipino vibe while helping unify the many elements from the wedding together in a single theme. They really are just simple additions but they do wonders.
Bamboo, being one of the most recognizable staples of the Filipino countryside, is used as the accent for their matching attires adding flare to an otherwise overly simple ensemble. And it works well not only as a design element but also as a vehicle to convey the couples' relationship – strong, resilient, and enduring.