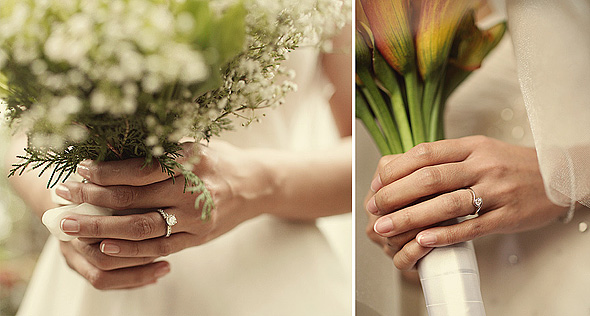 Left: One carat round-cut solitaire engagement ring with brilliant-cut side diamonds set in 18 karats.Right: Round-cut solitaire engagement ring set in.
Those who follow the entertainment scene, whether on television, the internet or in magazines, have come across it at one time or another: a photograph of a celebrity's engagement ring. Often, the picture contains an inset showing a close-up of the ring's design, and much of the hullabaloo revolves around the size and shape of "the rock". But for those who consider themselves "lesser mortals," the question is: are engagement rings really necessary?
The idea of wearing a ring to indicate that one is engaged to be married at a near-future date is not really of modern times; it's actually ancient. It is thought of to have evolved from a form of a handcuff – a cord tied to a woman's hands to keep her from escaping the caveman who laid claim on her. Ancient Greeks used betrothal rings. These however, indicated friendship rather than engagement. For Romans, such rings came with a key, said to enable the bride to unlock her share of her husband's wealth.
In 1215, Pope Innocent III said couples who wanted to get married should have a waiting period between the time they promise to marry, until the actual wedding ceremony. In between, they would wear rings to indicate their betrothal. Yet the first recorded giving of an engagement ring in its modern-day sense came much later in 1477, when Archduke Maximillian of Hamburg, Austria gave Mary of Burgundy a ring embedded with diamonds shaped in the letter "M". This practice started a trend – enough for Princess Mary, daughter of England's King Henry VIII, to wear what was considered the smallest diamond engagement ring when she was betrothed to France's infant Dauphin – when she was just two years old!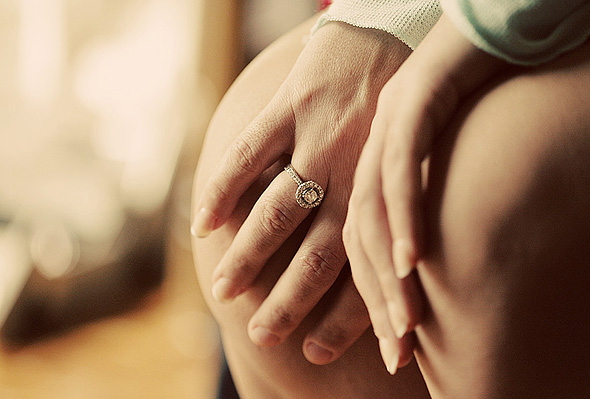 Solitaire engagement ring with brilliant-cut side diamonds set in.
Pretty soon, what started out as a status symbol, something which only the rich and famous could afford, soon became an aspiration and a trend for the middle class. The diamond became a favorite stone, especially with the increased supply from the African mines. The diamond ring, however, had another purpose. It provided the woman a sort of financial security, especially if the wedding did not push through and her "suitability" for future marriage prospects seemed "diminished."
To this day, diamonds remain a preference for their beauty and durability – characteristics of an ideal marriage. Other precious gemstones, such as rubies, are also used, either alone or in an arrangement combined with diamonds. Lately, cubic zirconia has been chosen as a cheaper diamond-like alternative. The band, on the other hand, is often made of gold or other similar precious metals such as silver, platinum, or even stainless steel.
Engagement rings vary by material, design, and value. Sometimes, the ring is a family heirloom. For those without such antiquities, the couple picks it out from a jeweler. But more often, the ring is privately selected and purchased by the man, to be given to his prospective bride-to-be when he proposes marriage – and she accepts, of course.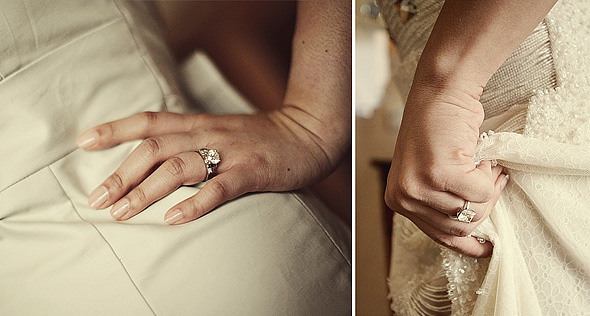 Left: Round-cut solitaire engagement ring with tapered bagettes side diamonds set in. Right: Radiant-cut solitaire engagement ring set in.
In some cultures, the couple have matching "his and hers" rings. The engagement rings can also double as wedding rings. Interestingly, some rings come in a set where the design becomes "whole" when the engagement and wedding rings are worn together.
For many western cultures, the engagement ring is traditionally worn by the woman on her left hand. This stems from the ancient belief that a vein that directly leads to the heart can be found in the left ring finger. Then, this ring can be transferred to the right hand, alongside the wedding ring, if the bride wishes to continue wearing her engagement ring. Others opt to wear their engagement rings hanging from a necklace.
Another non-traditional concept that is fast being observed in Western countries is the so-called "mangagement ring," or the "engagement band" worn by the man. For some men, this ring can double as the wedding ring. They use it on one hand then transfer it to the other hand come wedding day. Others use the actual wedding ring instead, wearing it for some period before the actual wedding. Though some men may cringe at wearing a "mangagement ring," those who wear it are regarded to be more open-minded about relationships and gender equality. Usually, this kind of ring is given to the man when, in a total reversal of roles, it is the woman who has proposed. A man wearing a mangagement ring is also seen as someone considerate of the female gender by showing willingness to go public about his engagement.
In the Philippines, popular go-to places for buying engagement rings (other than mall-based jewelry shops) would be in Meycauayan, Bulacan, and the Ongpin/Binondo area. Some purchase ready-made sets while others have their designs custom-made. With diamonds being expensive, the woman's birthstone gem is a popular alternative, often set in gold which is the most popular band material of choice, what with its good supply in the country.
The engagement ring, though, is not a requirement for getting married. It is only an option, often given as an accessory that signals a sentimental moment capping what is supposed to be a romantic wedding proposal by someone who can actually afford it. Yet, whatever culture and regardless of the ring's design and value, it is also a good symbol of a deep commitment between the couple, with its circular shape denoting a love and marriage that is everlasting.