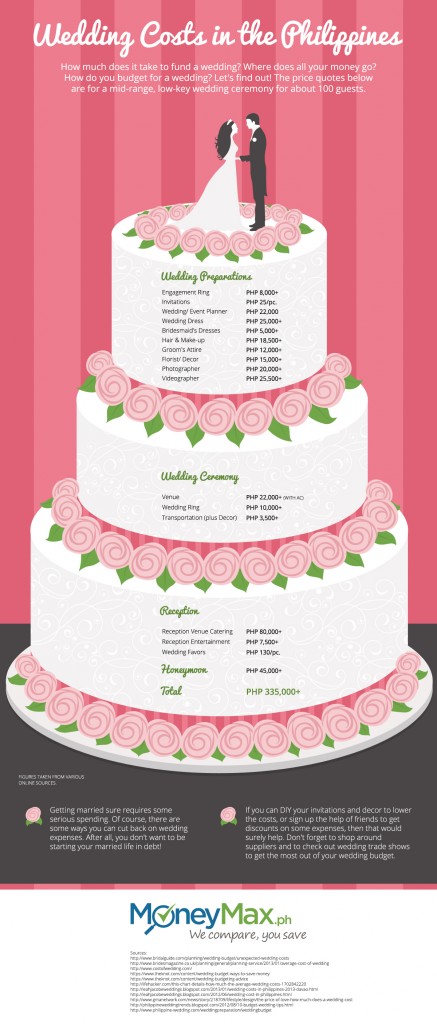 The idea of a June wedding comes from the Celtic calendar. It was tradition that on May 1st – or the Cross-Quarter Day of Beltane – couples would pair off to court and be wed the next Cross-Quarter Day, August 1st. Due to the impatience of young couples, the waiting period was shortened to mid-June, and the rest is history.
June is a bit of a sweet spot when it comes to an event like a wedding in the country. It's halfway through the year and the weather is less difficult. When planning a wedding, there are a lot of costs that a couple must consider. There's the venue, the clothes, the invitations, and a whole host of other things that you and your beloved will need to spend for before the big day.
Most will acquire the services of a wedding planner or coordinator to ensure that the big day runs as smoothly as possible. A wedding in the Philippines can cost as low as PHP 50,000 for a low-key event. Big weddings can cost upwards of PHP 1 Million. Let's take a look at the average costs for your big day.
How much does it take to fund a wedding? Where does all your money go? How do you budget for a wedding? Let's find out! The price quotes below are for a mid-range, low-key wedding ceremony for about 100 guests.
Wedding Preparations
Most wedding preparations take ample time and effort to secure. Yes, you can throw together wedding plans in less time, but there is a reason why most of these things take time. Here's a breakdown of the expenses you and your future spouse are looking at:
Engagement Ring – PHP 8,000+

Invitations – PHP 25/pc.

Wedding/ Event Planner – PHP 22,000

Wedding Dress – PHP 25,000+

Bridesmaid's Dresses – PHP 5,000+

Hair & Make-up – PHP 18,500+

Groom's Attire – PHP 12,000+

Florist/ Décor – PHP 15,000+

Photographer – PHP 20,000+

Videographer – PHP 25,500+
 A few factors that play into this is the overall theme that you both want for the wedding. For men (or women) finding the perfect ring takes up a week or two, consulting with your future spouse's family and friends – and finally popping the question.
It's ideal that you have a wedding or event planner so that most of the choices you both need to make will be easier. He or she will be able to make your selection and elimination process way easier, especially when it comes to the attire, the dress, and the décor.
The Ceremony and Reception
Your wedding planner may have an arsenal of people for most of your wedding needs. The venue might be somewhat tricky. A low-key ceremony venue may cost less, but these can be booked for your chosen date, and as such, you might need to wait for a few months, or book an off-season date for your wedding. Here's a look at those costs:
Venue – PHP 22,000+ (with ac)

Wedding Ring – PHP 10,000+

Transportation (plus Decor) – PHP 3,500+

Reception Venue Catering – PHP 80,000+

Reception Entertainment – PHP 7,500+

Wedding Favors – PHP 130/pc.

Honeymoon – PHP 45,000+
 One of the biggest areas that you and your future spouse control is the food. If you're feeding a hundred guests, some of them may have dietary restrictions, so be sure to be inclusive. Will there be a bar? If there is going to be one, you may want to consider low-alcohol content cocktails.
 Your honeymoon is totally up to the two of you, or if you'd rather save the money – consider a staycation instead.

The Total Cost
Getting married sure requires some serious spending, but ultimately, you control how much you spend for it. For this, you're looking at a total cost of  PHP 335,000+. Of course, there are ways you can cut back on wedding expenses. The last thing you want is to start your married life in debt!
You can DIY certain aspects , like invitations, or the souvenirs. You can even enlist friends and family to help out when it comes to making a very personalized wedding. Don't forget to shop around suppliers and to check out wedding trade shows to get the most out of your wedding budget.
Figures taken from various online sources.  
Original information of this article can be found on: http://www.moneymax.ph/blog/how-much-does-a-wedding-really-cost/
 This post is brought to you by:
MoneyMax.ph is the Philippines' leading financial comparison site where you can save money by comparing financial and car insurance products and services – fast, comprehensive, and free. We aim to give the power of smart purchase decisions back to Filipino consumers by providing everything they need to become financially savvy. Like MoneyMax.ph on Facebook to get the latest tips on how to save.