The Eiffel Tower in Paris, France. The Statue of Liberty in New York, USA. Two iconic landmarks of the western world, almost a world away from the Philippines, yet they share one thing in common with our country: the San Sebastian Church in Manila, whose constructional materials were all designed and provided by French engineer Alexander Gustave Eiffel.
The Basilica Minore de San Sebastian (Minor Basilica of San Sebastian) is located along Plaza del Carmen in Quiapo, near Legarda street and C.M. Recto avenue. It is difficult to miss, with its spires and towers proudly pointing up to the sky, high over other structures in the area. It is one of four minor basilicas under the Archdiocese of Manila, and is the seat of the Parish of San Sebastian and the National Shrine of Our Lady of Mount Carmel.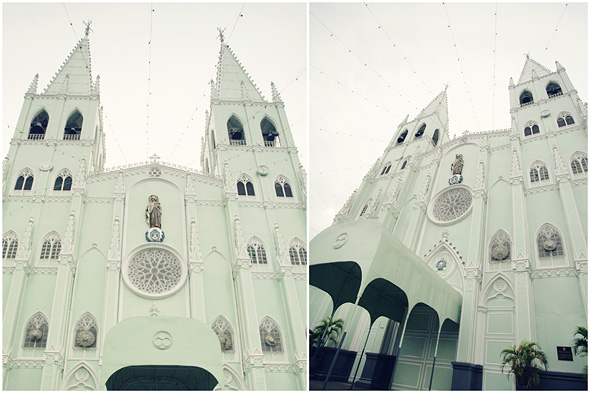 San Sebastian Church's most distinct characteristic is its being the only all-steel church in the country and in the whole of Asia. This is probably the main reason why it was declared a National Historical Landmark through Presidential Decree No. 260 in 1973. It is on the tentative list of UNESCO World Heritage Sites. Steps have been also taken by the National Historical Institute and the Augustinian Recollects restore the church and protect it from further decay caused by rust and corrosion.
The land on which the church currently stands was donated in 1621 by Don Bernardino Castillo, a general patron and devotee of Saint Sebastian, patron saint of athletes and soldier. The idea of having a steel church was broached in the 1880s by the parish priest to the architect Genaro Palacios, after previous structures of wood or brick were destroyed by fire and earthquakes. The steel was pre-fabricated in Belgium, transported to Manila in eight separate shipments weighing a total of 52 tons starting in 1888. The walls were filled with a mixture of sand, gravel and cement at time of construction. Its stained glass windows were also imported from Germany.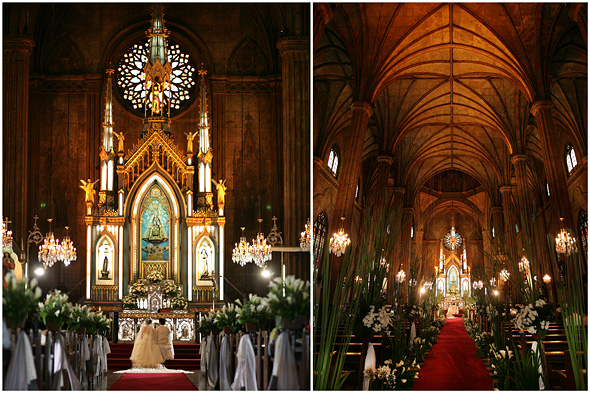 Palacios' design was a combination of Earthquake Baroque and Neo-Gothic: characterized by ribbed vaults, spires, towers and pointed arches, made resistant to earthquakes with more stable proportions as well as thicker and heavily buttressed walls, and upper portions made of lighter materials. Its light greenish-gray façade is imposingly regal yet cosmopolitan. Its vast interiors, on the other hand, seem somewhat dimly lit by chandeliers, but these actually invite solemnity when taken in with the vaulted ceiling painted to resemble marble and jasper, as with the walls and columns.  Gothic details are echoed in the pulpit, balconies, confessional boxes, and rose windows. Its altar is adorned with an image of Our Lady of Mt. Carmel in the altar's center, said to have been given in 1617 by Carmelite sisters from Mexico, and flanked by statues of Saint Simon Stock and St. Theresa. These are, of course, topped by an image of St. Sebastian.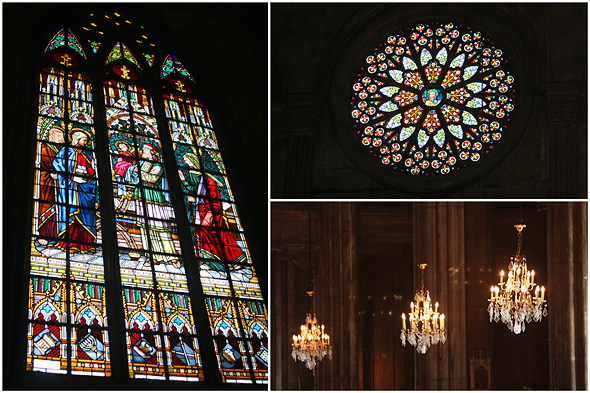 With all its history and features, it is no wonder that San Sebastian Church is a favorite venue for weddings. Rates start at P20,000, which includes flowers, red carpet, and the services of a church coordinator, soloist, organist and priest. The bride would surely find it a bonus that it has a long aisle to march down in. Photo ops are enhanced by the overall architecture and design, both outside and inside the church. Its location also is also accessible to several good restaurants and hotels around Manila. A little warning though: Be prepared for the potential traffic as it is also located within the University Belt.