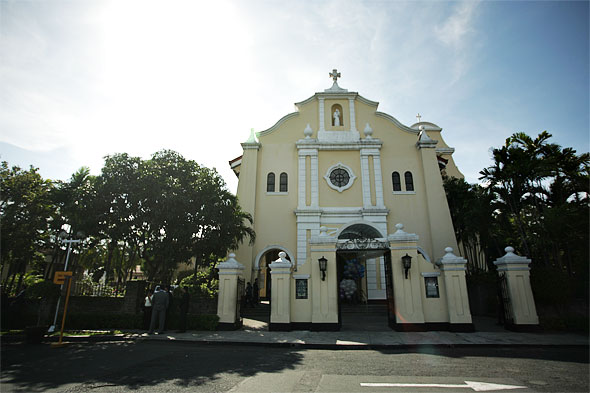 One of the famous churches preferred as wedding venues is the Santuario de San Antonio along the McKinley Road in Forbes Park, Makati City. Its address speaks of the kind of patrons or "clientele" it usually has – Forbes Park, after all, is a very exclusive subdivision where some of the country's wealthiest families and prominent expatriates reside.
Santuario de San Antonio literally translates as "Sanctuary of Saint Anthony." The patron of this church is St. Anthony of Padua, a Portuguese Catholic priest and friar of the Franciscan Order who died in Padua, Italy. He was noted for his expertise on the Scriptures and for his forceful preaching of it, that when his body was exhumed more than 300 years after his death, his body was corrupted but his tongue was totally incorrupt. He was declared a saint a year after his death in 1231, and is known among Catholics as "finder of lost articles."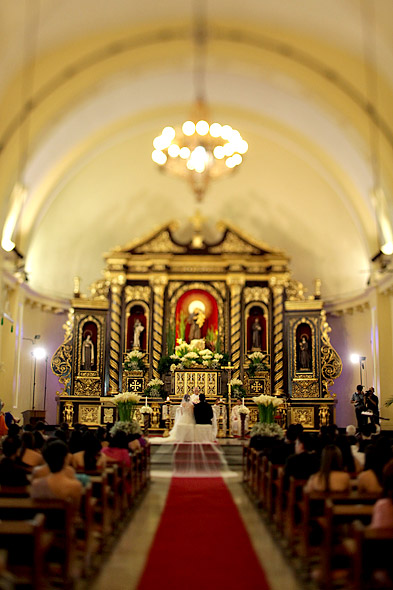 The Santuario de San Antonio was built by the Franciscans after their mother church in Manila was destroyed during the second world war. The Franciscans were the second religious order to come to the Philippines, next to the Augustinians. In July 1951, Ayala Corporation donated two hectares of land in Forbes Park, Makati (then a part of Rizal province) to the Franciscans who committed to construct a church and convent on the property. Less than a month later, permission was granted by then Manila Archbishop Gabriel Reyes to construct a church dedicated to St. Anthony de Padua, whose image was transferred from the original church. The newly-constructed church was blessed two years later, and finally became a parish in 1975, spanning the posh villages of Urdaneta, Forbes Park and Dasmariñas.
Both the church's cream-hued façade and air conditioned interiors speak of simple yet well-maintained elegance, replete with a Spanish-era charm. Its layout is of the usual cross shape, and brides would love marching down the green or red carpet (yes, there is a choice) laid over the long aisle before leading to the altar under the dome-shaped ceiling.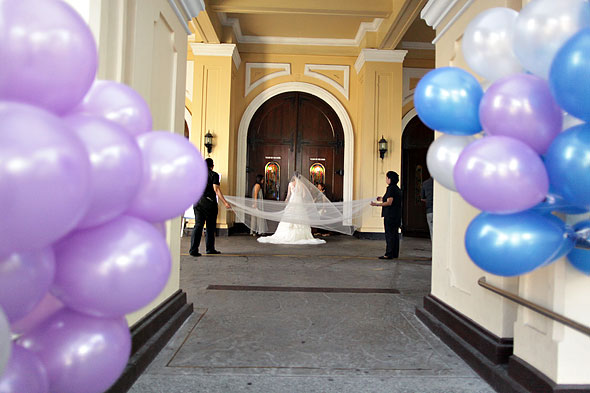 Wedding reservations are made from as little to three months and as much as one year in advance, and made after submitting a duly filled-in reservation form as well as payment of a P5,000 deposit. This can be deducted from the wedding fee but is non-refundable.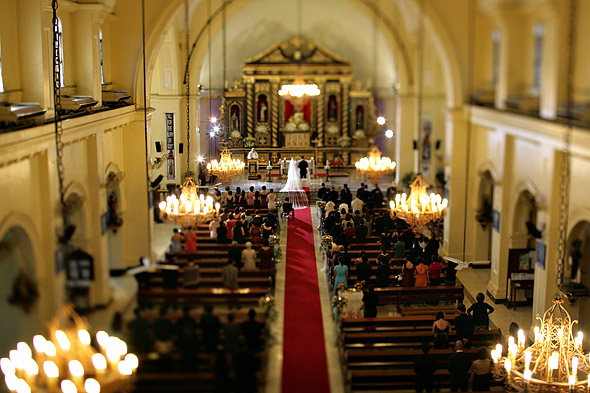 There are specific schedules for parishioners and non-parishioners. Parishioners can choose from two weekday slots (3 or 7 PM), four other slots (8 and 10 AM, or 2 and 7 PM) on Saturdays and two on Sundays (2 and 7 PM). Non-parishioners, on the other hand, are only allowed to wed during any of three slots on weekdays (1, 3 and 7 PM), or during the 8 or 10 AM slots on Saturdays. Wedding fees are pegged at P20,000 for parishioners and P25,000 for non-parishioners. These need to be settled at least a month before the actual wedding date. The fees also do not cover flowers or floral arrangements, which may be acquired from parish-accredited florists only. The parish also discourages backless and "indecent" styles for the brides and the entourage.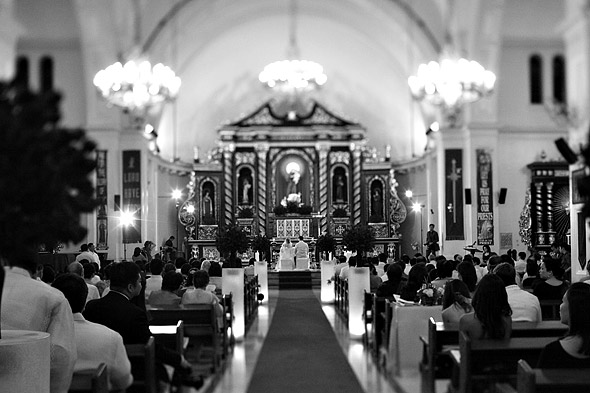 Possible venues for the wedding reception may be at the North Forbes Pavilion, the Blue Leaf, the Manila Polo Club, the Makati Shangri-La Hotel, the Manila Peninsula, or other similar establishments in Makati City or in nearby Taguig City.