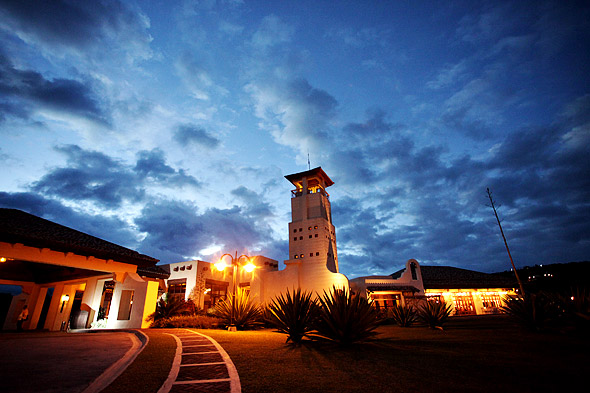 Tagaytay City in Cavite has become one of the most popular wedding destinations. With its accessibility and proximity to Metro Manila (about an hour-and-a-half drive), as well as Batangas, Laguna and other Cavite towns and cities, its cool clime, and breathtaking view of wondrous Taal Lake and Volcano – who could ask for more?
Tagaytay City is literally dotted with wedding venue options. Among the most popular churches for Catholic weddings are Caleruega, Chapel on the Hill, and Madre de Dios. Meanwhile, many restaurants and hotels are available for the wedding receptions, from the most budget-conscious to the more upscale and grand ones. Of the latter, consider the splendor and exclusive ambience of the Splendido Taal Golf Clubhouse of Splendido Taal Residential, Golf and Country Club, a joint project of the JAKA group of companies and the Sta. Lucia real estate firm.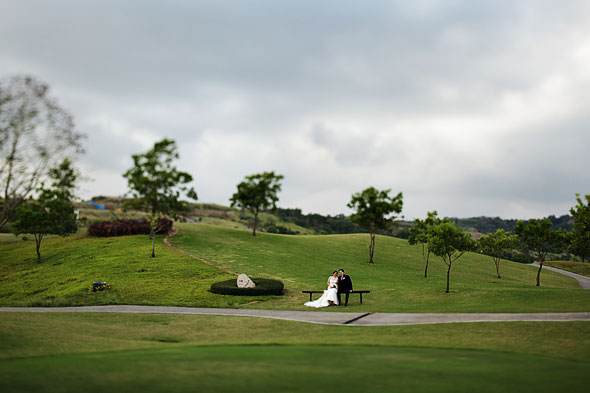 One cannot help but notice Splendido from the main road that traverses Tagaytay City in Cavite to Nasugbu in Batangas. The first sight that welcomes its guests is tall thin brick structure marked with the word "Splendido." Then, as one's eyes go downhill beyond, one cannot help but see the tall tower – Splendido Taal Tower – and the low-lying buildings around it, one of which is the clubhouse.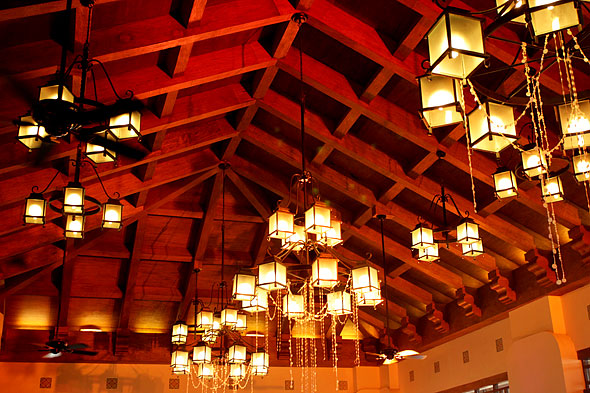 The Splendido Taal Golf and Country Club, located about two kilometers downhill from the main road, nestled among verdant landscapes of the 62.5-hectare par72 championship golf course. The clubhouse itself has a Spanish-Mediterranean inspired design, from its architecture to its colors and furniture. There are facilities for recreation such as KTV, swimming, badminton and bowling, as well as jacuzzi, spa and massage rooms, and air conditioned locker rooms. But there are two main function rooms to fit the wedding party's needs: the Ladera Golfer's Lounge, and the La Esquina Spanish Restaurant.
The Ladera Golfer's Lounge can accommodate more than a hundred people, which can increase to 300 when the veranda area is opened. Patio doors can be swung wide open to let the Tagaytay breeze cool the guests especially during the daytime, while a corner fireplace can provide warmth for night occasions. The high wooden ceilings and chandeliers of wrought iron all lend to an overall romantic and elegant ambience.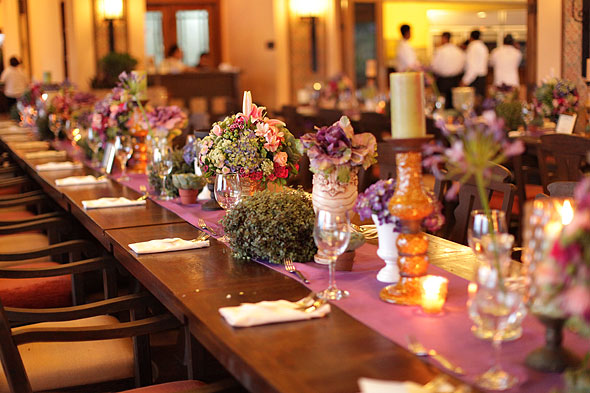 On the other hand, the La Esquina Spanish Restaurant offers a more intimate venue for a party of up to 60 guests. It has glass panels that extend from ceiling to floor, lending an awesome view of the verdant landscapes and fairways of a par72 championship golf course.
Splendido Taal offers the Kara, Katrina and Cristina wedding reception packages to suit the couple's needs. With each package comes a lunch or dinner buffet, wedding cake, sound system, a pair of doves, wine, place cards for the presidential table, a guest book, complimentary food tasting for three dishes from a choice menu of Asia, European and Continental cuisine. Floral arrangements for the presidential, wedding and 10 guest tables are guaranteed to be fresh, for Tagaytay is also known for its flower industry. Plus, the newly-weds are given complementary accommodations with free breakfast at the Taal Vista Hotel, which, at less than 10 minutes away, offers one of the most inspiring views of picturesque Taal Lake and Volcano.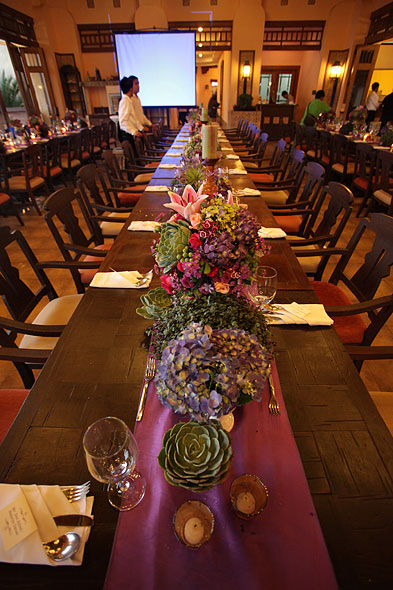 The reception packages differ in the number of layers for the wedding cake (whose bottom layer is edible), the type of accommodations at the Taal Vista Hotel, and additional freebies. The Cristina package offers a 6-layered wedding cake; three hours use of a bridal car (a Jaguar or vintage type), services of musicians, and a deluxe studio room at the hotel. The Katrina package offers a 4-layered wedding cake, services of a professional wedding host, and a junior suite accommodation. The Kara package offers a three-layered wedding cake, and a deluxe room accommodation.
There are also three buffet packages to choose from, each consisting of appetizers (hot or cold), a salad, a soup, entrees, veggie or pasta dish, desserts, rice, and iced tea or lemonade. Packages differ with the number of dishes per appetizer, entrée or dessert.